How is liposuction performed?
Liposuction is typically an outpatient procedure. Traditional liposuction removes localized fat deposits from your body using suction. Below are the general steps; however, you should speak with your aesthetic plastic surgeon about what may be unique to you.
The surgeon will draw on your body to indicate the treatment areas like the hips, abdomen, and thighs.
After administering sedation, your surgeon makes a small incision and inserts a small, thin, blunt-tipped tube (cannula).
Your surgeon moves these tubes under your skin to target fat deposits and then suction them out.
After treating the area, your surgeon will close the incision.
The surgeon repeats this process in different areas of the body to address all the treatment areas.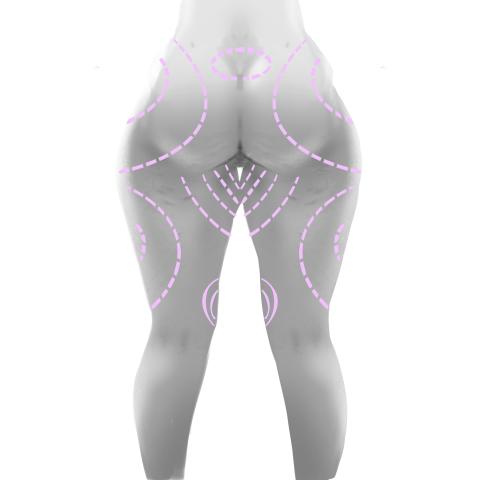 What are my liposuction options?
A variety of techniques facilitate liposuction, ranging from traditional liposuction procedures (such as suction-assisted liposuction) to new laser liposuction technologies (such as ultrasound-assisted and laser technology methods).
While some new liposuction techniques can improve your outcome, choosing a procedure based on "what's new" is never a medically sound decision. Your board-certified aesthetic plastic surgeon will help determine what is best for you based on your body type and aesthetic goals.
Tumescent Liposuction
Your surgeon injects a large amount of "wetting solution" containing a local anesthetic (normally lidocaine) combined with epinephrine (causing blood vessels to shrink down or constrict). This allows the surgeon to perform liposuction with the patient under local anesthesia, and these medications together reduce postsurgical pain and bleeding.
Suction-Assisted Liposuction (SAL)
SAL is the most traditional form of liposuction, in which the surgeon suctions fat out using a cannula which he or she manually moves in the region being treated.
Power-Assisted Liposuction (PAL)
PAL is similar to traditional SAL with the addition of a tool that increases the motion of the cannula, which speeds up fat removal and reduces surgeon fatigue.
Ultrasound-Assisted Liposuction (UAL)
With UAL, your surgeon uses a handpiece that transmits energy and loosens and melts fat, enabling a greater volume of fat removal. This technique is best for larger areas, dense fat, and male patients.
VASER
Vaser, a variation of UAL, is an ultrasonic cannula with several grooves that evenly disperse the energy, improving fat disruption and removal and reduces the chance of thermal skin damage.
Laser-Assisted Liposuction (LAL)
This approach is similar to ultrasound-assisted lipoplasty (UAL). Prior to fat removal using SAL or PAL, your surgeon will pass a laser through the treatment area to disrupt the fat cells and make fat removal more efficient and less traumatic. Brands include: SmartLipo and SlimLipo.
SAFELipo™
A member of The Aesthetic Society developed this procedure to address the challenges of revision liposuction cases. This technique removes a significant amount of fat without increasing chances of contour deformities or skin damage. SAFELipo™ includes a 3-step process of separation, aspiration, and fat equalization.
Separation - loosens, emulsifies, and separates the unwanted fat cells without generating heat, so essential blood vessels, skin, and other tissues are unharmed.
Aspiration - gently removes fat cells using suction, without damaging supporting structures such as nerves, blood vessels, skin.
Fat Equalization - smooths out the remaining thin fat layer, leaving behind a uniform layer of 'local fat grafts' that prevents contour deformities from forming.