What is a facelift?
A facelift (rhytidectomy surgery) is the most comprehensive approach to treating facial wrinkles and sagging caused by aging. Every year, thousands of people undergo successful facelift surgery and are pleased with the results.
Why get a facelift?
Your face can change with time, gravity, and sun exposure. If you feel like you don't look like yourself anymore and want to look like a younger version of yourself, a facelift may be right for you.
A facelift is a great option if you have any of the below concerns:
Facial sagging
A loss of muscle tone low on your face (jowls)
Deep creases from your nose to your mouth (nasolabial folds)
Lines from your mouth's corners to your chin (marionette lines)
A double chin or unwanted neck creases or folds
Below are some of the benefits of a facelift:
Improve many areas of the face in one surgery
Remove excess skin and tighten skin for a more youthful look (can make you appear ten to fifteen years younger)
Correct deep cheek folds, jowls, and loose skin on the face and neck
Get the gold-standard for recontouring the neck and jawline
Achieve smoother, firmer, and fresher looking skin on your face and neck
Improve your self-image and self-confidence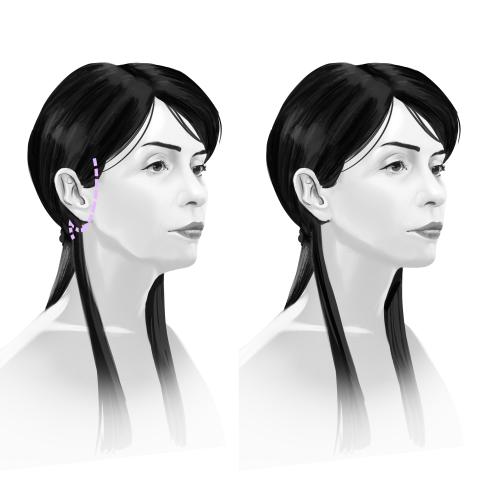 What should I consider before getting a facelift?
Please consult with your aesthetic plastic surgeon for more information on what is unique to you.
You need to be in good general health.
A facelift will create a younger version of yourself, not a 'new' you.
There will be some downtime associated with this procedure.
Depending on your age and skin type, you may desire secondary procedures later on.
The recovery time is typically at least two weeks, but the exact timing depends on how extensive the surgery is.