Headline
Number of Times We Change Our Position per Night Decreases from 27 to 16 as We A
New York, NY (July 26, 2016) - A new study published in the Aesthetic Surgery Journal, the peer-reviewed publication of the American Society for Aesthetic Plastic Surgery, indicates that compression, tension, and shear forces applied to the face during sleep cause facial distortion when people sleep on their sides and stomach, leading to the development of sleep wrinkles over time.
"Sleep wrinkles form in response to distortion created when the face is pressed against any sleep surface. They tend to worsen over time due to repetition combined with thinning of the skin and decreased elasticity as we age," explains Aesthetic Society member and lead author, Dr. Goesel Anson.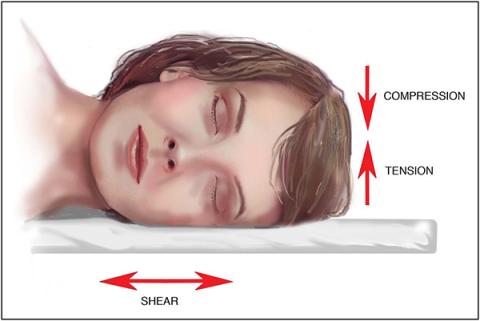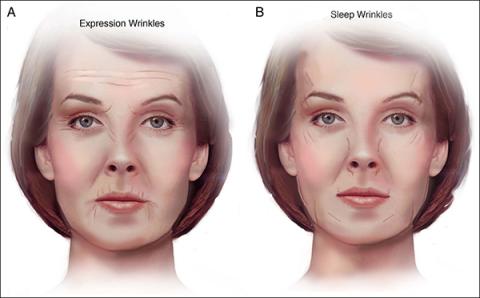 Sleep wrinkles are also influenced by the amount of time spent in various positions. While our initial sleep position is a conscious decision, we change positions throughout the night unconsciously. The number of shifts decreases as we age from 27 to 16 per night, with an average of about 20 position shifts.  The lateral (side) sleep position is the most common in studies averaging 65%, with the remaining 30% in the supine (back) position, and 5% in the prone (stomach) position. While some sleep wrinkle patterns can reinforce facial expression lines, most sleep wrinkles tend to be perpendicular to expression wrinkles. Most sleep wrinkles can be seen on the forehead, lips and cheeks. Unlike facial expression wrinkles caused by muscle contractions, sleep wrinkles that are formed because of mechanical compression during sleep can't be eliminated using Botulinum Toxin.  
Dr. Anson notes, "One way to minimize sleep wrinkles is to limit facial distortion during sleep. If you can stay on your back, that's ideal.  There are several specialty pillows available to help achieve that. Dermal fillers can temporarily improve wrinkles of any type however neurotoxins won't have much effect on these wrinkles since they are not caused by muscle contractions."
Patients are advised to use sunscreen, quit smoking, optimize nutrition, and maximize topical skin care to control at least some of the variables that influence aging. While plastic surgeons also advise patients to avoid sleeping in the lateral and prone positions, it is extremely difficult to consciously change sleep patterns. Noninvasive aesthetic treatments which promote collagen production could decrease sleep wrinkles.   
To view the complete study, visit the Aesthetic Surgery Journal site.
####
About the Aesthetic Surgery Journal
Aesthetic Surgery Journal is a peer-reviewed international journal focusing on scientific developments and clinical techniques in aesthetic surgery. An official publication of the American Society for Aesthetic Plastic Surgery, ASJ is also the official English-language journal of many major international societies of plastic, aesthetic and reconstructive surgery representing South America, Central America, Europe, Asia, and the Middle East. It is also the official journal of Canadian Society for Aesthetic Plastic Surgery and The Rhinoplasty Society.
ASJ was indexed with MEDLINE/PubMed in 2008 and covered by the Thomson Reuters' Journal Citation Report since 2011. ASJ's current Impact Factor is 2.502. In the 2015 JCR, ASJ ranked 53rd out of 199 journals in the overall surgery category. ASJ is presently ranked #1 among all aesthetic surgery journals and #2 among all plastic surgery journals.